CMS 600-3
8‑channel compact mixing system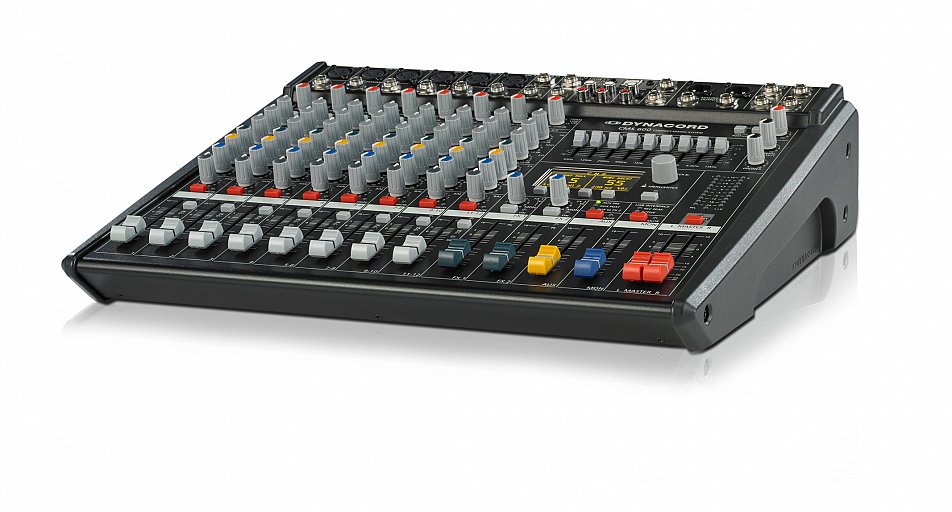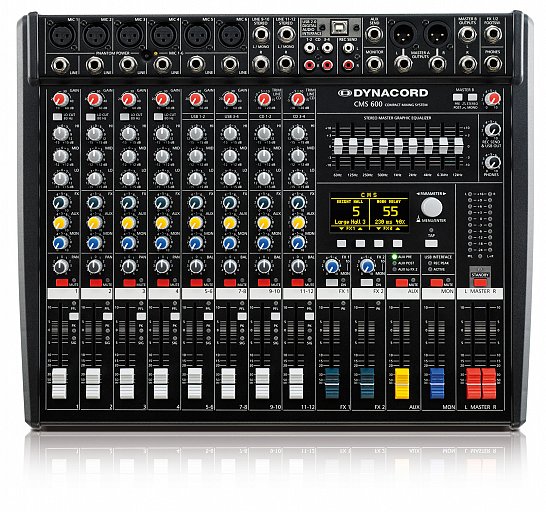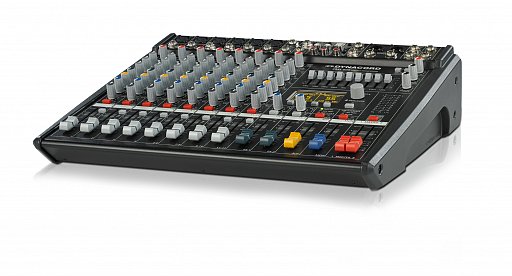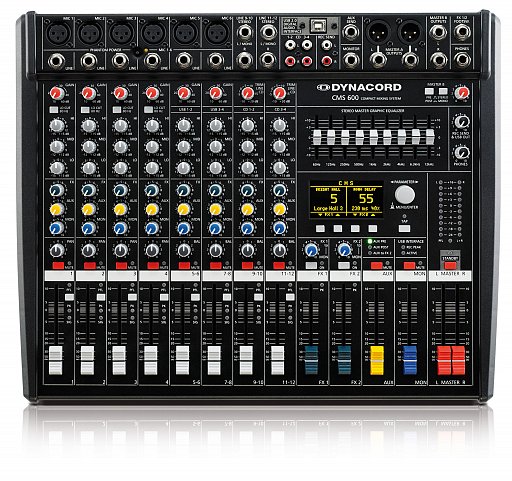 Intuitive mixer section: with 8 input channels with 4 Mic/Line, 2 Mic/Stereo-Line, 2 Stereo-Line inputs
2 High-Quality FX processors, editable with 100 factory and 20 user presets
Professional 4x4 24-bit/96kHz USB interface, recording software and MIDI interface for FX control, please see information on available drivers
Stereo EQ for the main mix
First-class components ( e.g. ALPS faders and potentiometers)
Large, contrast rich OLED display
Lightweight (5.8kg) super compact package

The MIC/LINE Channels

In the mixer section, a total of 8 channel strips are available: 4 MIC / LINE channels, 2 MIC / Stereo USB channels ('Super Channels') and 2 stereo LINE channels.
The MIC / LINE channels offer extremely low-noise and low-hum electronically balanced XLR microphone inputs with an extremely low distortion factor (typ. 0.002%) for the connection of low-impedance microphones. For condenser microphones, phantom power (+48 volts) is centrally switchable. The LINE inputs are also electronically balanced and implemented as TRS sockets. In addition to a Gain control, a highly efficient 3-band equalizer, FX send, AUX send and a Monitor send as well as either Panorama or Balance controls are available. The four MIC / LINE channels provide a switchable 80Hz Lo-Cut filter to cut-off unwanted rumble, whilst the Super Channels 5-6 and 7-8 are supplied by the USB stereo inserts 1-2 and 3-4.
The STEREO-LINE channels (9-10 and 11-12) offer electronically balanced TRS inputs for the connection of electronic instruments such as keyboards, drum-computers, guitars and basses with active electronics, as well as all other high-level stereo signal sources such as additional mixers, effects devices etc. CD or MP3 players can be connected to the additional cinch (RCA) inputs CD 1-2 and CD 3-4, which are switched in parallel. The tone controls and sends are identical to those of the MIC / LINE channels.
All input channels, provide a Signal / Peak LED to assist level control. The SIG LED illuminates at around -30 dB and the PK LED at 6dB beneath the distortion threshold. A MUTE button and a PFL button (in channels 5-12 in stereo) are further features found in all input channels.

The DIGITAL AUDIO Interface

The DIGITAL AUDIO INTERFACE features two stereo channels, present as USB 1-2 and USB 3-4 in Super Channels 5-6 and 7-8 respectively. This professional interface is implemented with 24-bit resolution and sampling rates up to 96 kHz, satisfying studio requirements. The USB sends are supplied with the Master L and R, AUX and MON signals. The DIGITAL AUDIO INTERFACE can be used for input and output simultaneously. Via the USB 2.0 port of your PC / Mac, four channels can be transmitted simultaneously in each direction. When a USB 1.1 interface is used, two channels can be transmitted simultaneously in each direction. The CMS is designed for the level of standard PCs / Macs; the gain level can easily be adjusted from the connected computer. Included in the delivery is an instruction sheet and a licenses code for the Cubase LE software.
PC MIDI Interface
The CMS includes a fully-featured PC MIDI interface. The MIDI input also supports the remote switching of both internal effects units using a master keyboard or MIDI footswitch.

Master

Master Section features the Master A L+R sends (on separate faders), an additional Master B send (switchable pre/post master A and mono/stereo), the stereo effects returns, and the master sends of the AUXiliary and MONitor busses. If the AUX buss is not used to supply FX 2, it can be switched pre or post fader to use as an additional monitor or FX send.
The 9-band stereo equalizer in the master section allows you to adjust the frequency response to the acoustics of the room. The REC SEND and USB OUT controls determine the level of the master L+R signal at the Rec Send sockets and in the output channels of the digital USB interface. PHONES allows you to adjust the volume of the headphones output.
Two ten-LED meters provide an overview of the power amplifier level. When the PFL switch is activated, the left-hand LED chain shows the internal level of the master buss in dBu. The STANDBY switch mutes all outputs with the press of a single button. For the playback of e.g. background music, the DEVICE SETUP menu allows you to route stereo channel 11-12 for standby operation directly to the power amplifiers.

Stereo Effects and Processing

CMS is equipped with two very high-quality, 24-bit stereo effects processors, FX 1 and FX 2; they operate independently and can therefore be mixed. The two effects units are fully identical in their design. Each effects section offers 100 presets including studio-quality reverb, delay and modulation effects selected by means of the display. When a delay effect is active, the actual delay time can be synchronized to the beat of the music using the TAP key. Customized effects can be created modifying individual parameters of the presets and storing the results in the 20 user memories.
Both effects units are supplied by the FX Send buss. In the DEVICE SETUP menu, you can configure the AUX send buss to function as an FX 2 send, so that only the FX 1 effects unit is supplied by the FX 1 buss. In this way, the two effects devices can be used independently of each other. The effects can be mixed separately to the master and monitor busses. To manage the FX, the large, high-contrast OLED display is easily read from a wide range of viewing angles, even in very bright surroundings. The operation of the effects units and processing menus is intuitive and made easier still through the use of soft keys and a rotary encoder.
Thanks to its impressive feature set and versatility, the CMS 600-3 mixer is the ideal choice for all professional applications in which few channels, yet high audio quality, are required.
Being light and compact, it poses no transport problems. The CMS 600-3 mixer is also a great solution in many fixed installation applications.
Performance without compromise.
The pro audio mixer amongst mixers. Unique. CMS 600-3
Channels
4 +2 + 2
MIC/Line-Mono
4
MIC/Line-Mono / USB-Stereo (Super Channel)
2
Line L-R / CD-IN-Stereo
2
Auxiliarys (AUX, MON)
Pre/Post switchable, Pre
MIC GAIN (LINE -20 dB)
+10 to +60 dB
TRIM LINE/CD (Stereo)
-10 to +20 dB
THD, at 1 kHz, MBW = 80 kHz
MIC input to Master A L/R outputs, +16 dBu, typical
< 0.005%
Frequency Response, -3 dB, ref. 1 kHz
Any input to any Mixer output
15 Hz to 70 kHz
Crosstalk, 1 kHz
Channel to Channel
< -80 dB
Mute & Standby switch attenuation
> 100 dB
Fader & FX/AUX/MON-Send attenuation
> 85 dB
CMRR, MIC input, 1 kHz
> 80 dB
Input Sensitivity, all level controls in max. position
MIC
-74 dBu (155 µV)
LINE (Mono)
-54 dBu (1.55 mV)
LINE (Stereo)
-34 dBu (15.5 mV)
CD (Stereo)
-34 dBu (15.5 mV)
Maximum Level, mixing desk
MIC inputs
+12 dBu
Mono Line inputs
+31 dBu
Stereo Line inputs
+30 dBu
All other inputs
+22 dBu
All other outputs
+22 dBu
Input Impedances
MIC
2 ㏀
CD In
10 ㏀
All other inputs
> 15 ㏀
Output Impedances
Phones
47 Ω
All other outputs
75 Ω (unbalanced), 150 Ω (balanced)
Equivalent Input Noise, MIC input, A-weighted, 150 ohms
-130 dBu
Noise, Channel inputs to Master A L/R outputs, A-weighted
Master fader down
-100 dBu
Master fader 0 dB, Channel fader down
-92 dBu
Master fader 0 dB, Channel fader 0 dB, Channel gain unity
-82 dBu
Equalization
LO Shelving
±15 dB / 60 Hz
MID Peaking
±12 dB / 2.4 kHz
HI Shelving
±15 dB / 12 kHz
Master EQ 9-band (63, 125, 250, 500, 1k, 2k, 4k, 6.3k, 12kHz)
±10 dB / Q = 1.5 to 2.5
Filter
LO-CUT, mono inputs
f = 80 Hz, 18 dB/oct.
Filter
LO-CUT, mono inputs
f = 80 Hz, 18 dB/oct.
Display
128 x 64 pixels, OLED
Effects
Type
Dual stereo 24/48-bit multi effects processors
Effects presets
100 Factory + 20 User, Tap-Delay
Remote control
Footswitch, MIDI
Digital Audio Interface
Channels
4 In / 4 Out
AD/DA Conversion
24-bit
Sampling Rate
44.1 / 48 / 88.2 / 96 kHz
PC Interface
USB2.0, Female Type B
Supported OS
See documentation
MIDI Interface
5-pin DIN connector, In / Out
Protection
Mixer Outputs (Relay controlled)
AUX, MON, MASTER A L/R
Switching Mode Power Supply (µC controlled)
Mains Over/Undervoltage
Phantom Power, switchable
48 V DC
Power Requirements (SMPS with auto range mains input)
100 V to 240 V AC, 50 Hz to 60 Hz
Power Consumption, at 1/8 maximum output power, 4 Ω
35 W
Safety Class
I
Ambient Temperature Limits
+5 °C to +40 °C (40 °F to 105 °F)
Dimensions (W x H x D), mm
416.9 x 108.6 x 347.8 Rack-mount (7.5 HE): 483.0 x 99.1 x 332.6
Weight
Net Weight
5.8 kg
Shipping Weight
7.8 kg
Warranty
36 months
Optional Accessories
RMK-600-3 (Rack Mount Kit for CMS 600-3)
F01U214881 (DC-RMK-CMS-3)
FS 11 (Footswitch with LED)
F01U100598 (DC-FS11)
Carrying Bag for CMS 600-3
F01U259015 (DC-BAG-600CMS)
Device in rated condition, unity gain (MIC gain 20 dB), all faders position 0 dB, all pots in mid position, master fader +6 dB, unless otherwise noted.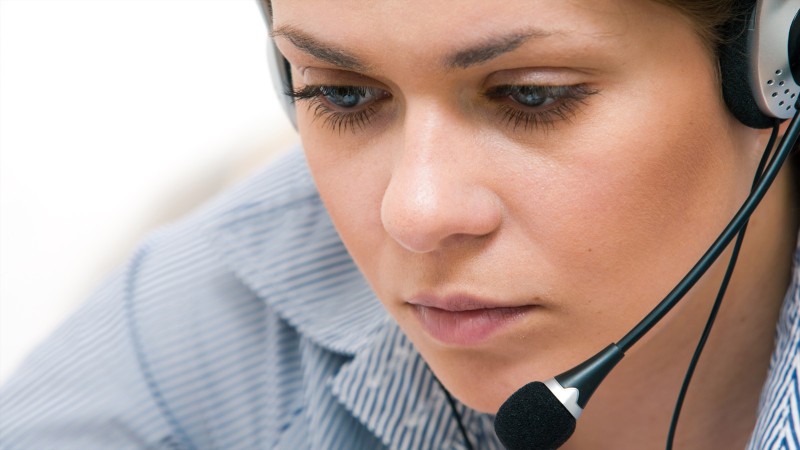 Dynacord & Electro-Voice, together with our certified partners, are ready to help support you through planning, purchase, and setup. Services available through our network of highly-qualified associates and partners may include:
System Design
Installation
Programming & Commissioning
Warranty & After Sales Programs