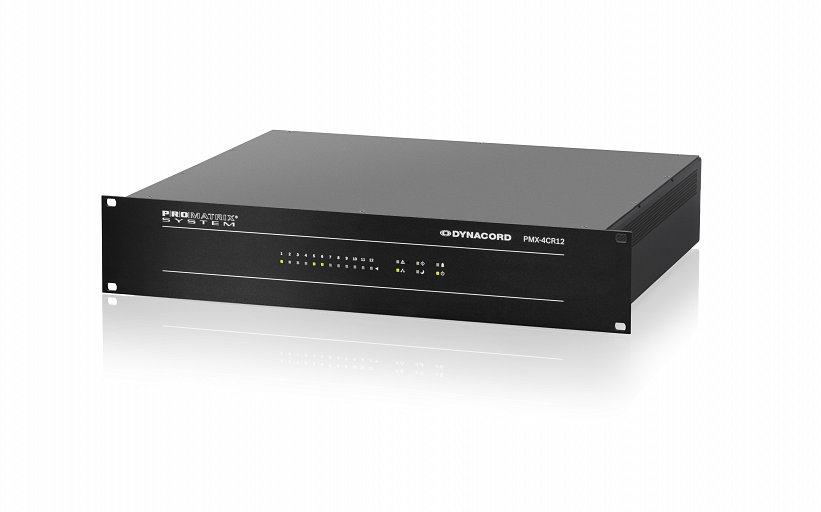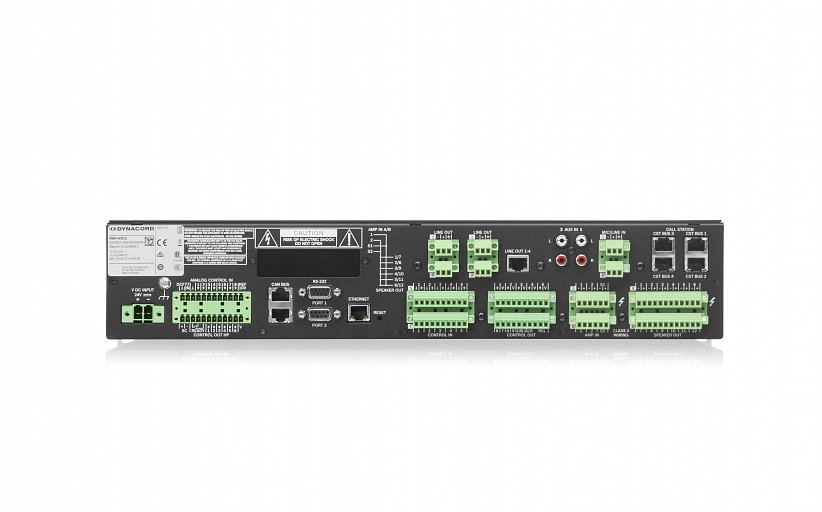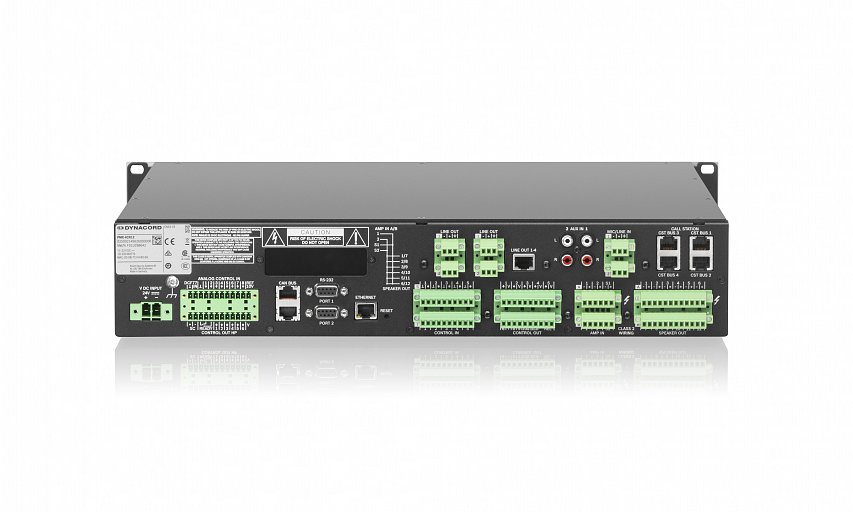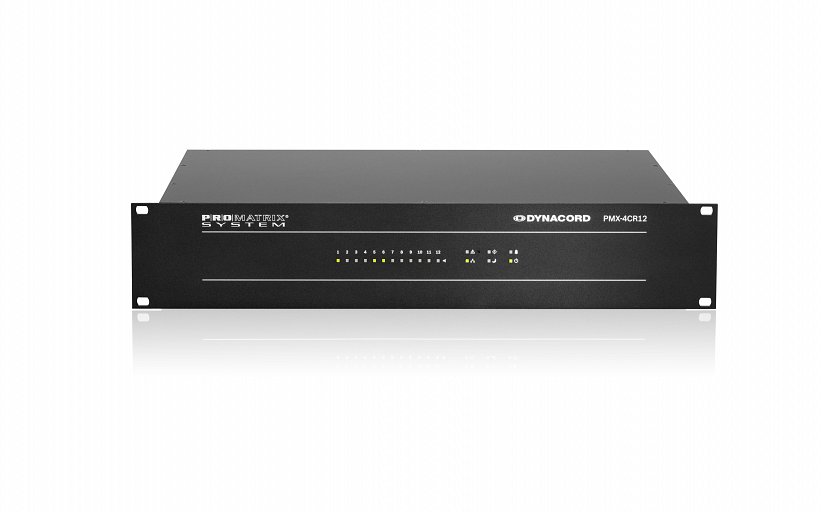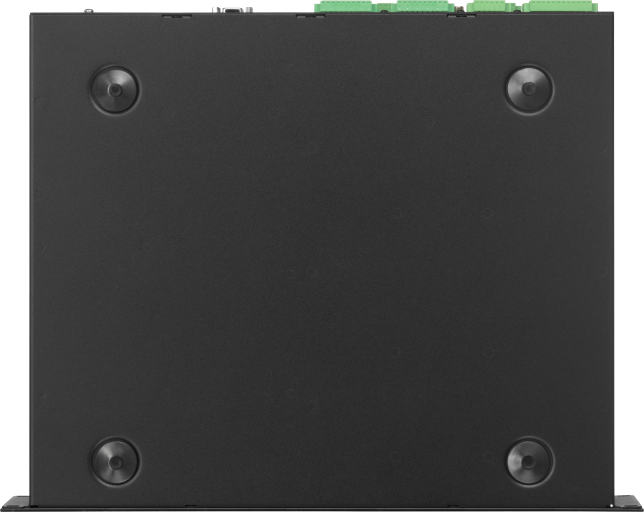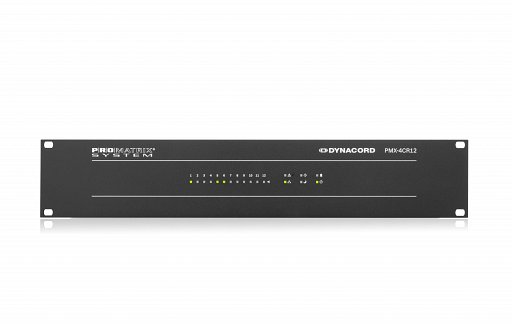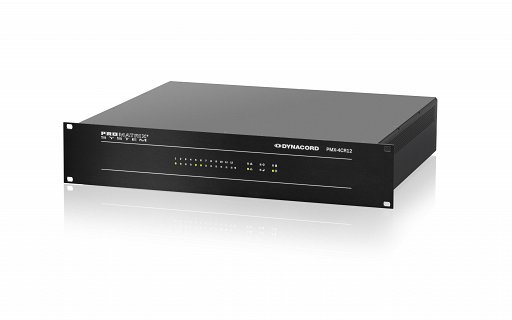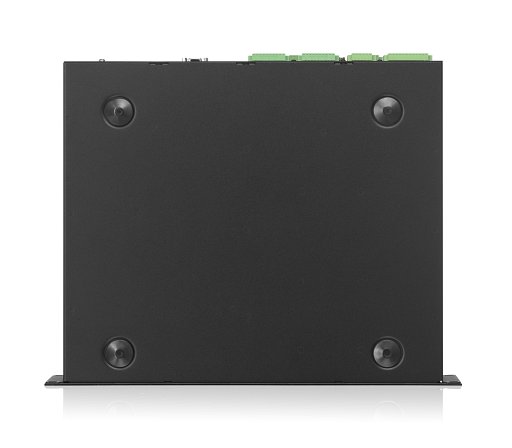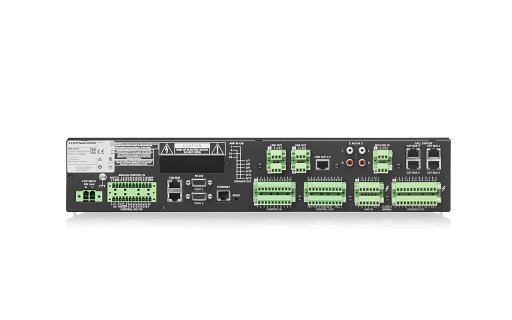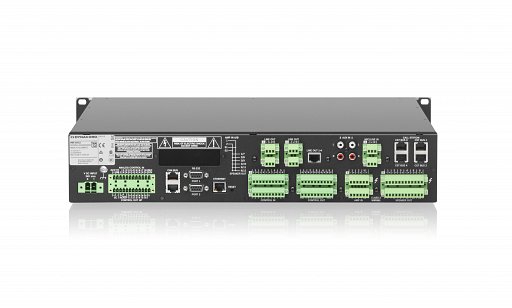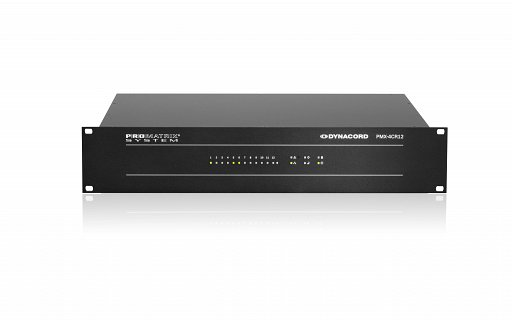 Low power consumption
Extreme flexibility
Excellent sound quality > 106dB SNR
Up to 85 minutes of internal digital message storage, 2 channels
The Controller is the central paging manager for the PROMATRIX 6000 System and provides all the audio processing, supervision and control functions for the complete system.
The 8 audio inputs of this integrated 2-channel message manager can be switched to 4 audio outputs. A single Controller can handle up to 2000W speaker load and supports up to 16 call stations and 492 paging zones. The device is equipped with 12 zones, 18 input contacts and 19 output contacts. Additional zones and power can be added by using up to 20 external routers and 50 amplifiers each with 2x500W.
The zone indicator lights on the front of the Controller indicate the current status of every zone (green for Public Address, red for Voice Evacuation and yellow for fault indication).
PMX-4CR12 Controller
PROMATRIX 6000 controller including signal processing, routing, system control & supervision
Audio
8 audio inputs, 4 audio outputs
Safety/redundancy
Internal supervision, system monitoring, watchdog, fault output
PC configuration & control software
Configuration Wizard: Easy system configuration.
IRIS-Net: Integration of controller, amplifiers, callstations, routers & peripheral control; configuration, control, & supervision for complete audio systems; programmable user control panels & access levels.
Hot Swapper (included in IRIS-Net package): Easy updating of messages during runtime.
Frequency response (ref. 1 kHz)
20 Hz to 20 kHz (-0.5 dB)
Signal-to-noise ratio (A-weighted)
Line in to line out: 106 dB typical
THD+N
< 0.05%
Crosstalk (line level)
Line in to line out (0 dB gain): <100 dB at 1 kHz
Sample rate
48 kHz
DSP processing resolution
24-bit linear A/D & D/A conversion, 48-bit processing
Audio inputs (microphone/line level)
MIC/LINE: 2 ✕ 3-pin port, electronically symmetric AUX: 2 ✕ Stereo RCA
Input level (nominal)
MIC/LINE: 15 dBu AUX: 9 dBu
Input level (max. before clip)
MIC/LINE: 18 dBu AUX: 12 dBu
Input impedances
MIC/LINE: 2.2 kΩ AUX: 8 kΩ
Common mode rejection
MIC/LINE: > 50 dB
Phantom power, switchable
MIC/LINE: 48 V DC
A/D conversion
24 Bit, Sigma-Delta, 128 times oversampling
Audio inputs (100 V)
AMP IN: 2 ✕ 6-pin port
Max. voltage
120 V
Max. current
7.2 A
Max. power
500 W
Audio outputs (line level)
LINE OUT: 1 x RJ-45, 4 x 3-pinport
Output level (nominal)
6 dBu
Output level (max. before clip)
9 dBu
Output impedance
<50 Ω
Min. load impedance
400 Ω
D/A conversion
24 Bit, Sigma-Delta, 128 times oversampling
Audio outputs (100 V)
SPEAKER OUT: 2 ✕ 12-pin port
Max. voltage
120 Veff
Max. current
7.2 A
Max. power
500 W
Crosstalk (100 V)
AMP IN to SPEAKER OUT: <100 dB at 1 kHz with 1 kΩ load
Call station bus (CST)
4 ✕ integrated power+CAN+audio interface, RJ-45
Power
+24 V DC, electronic fuse
CAN
10, 20 or 62.5 kbit/s
Audio
electronically symmetric
Max. length
1000 m
ANALOG CONTROL IN
1 ✕ 12-pin port
Control inputs
8 (analog 0-10 V/logic control; low: U ≤ 5 V DC; high: U ≥ 10 V DC; Umax = 32 V DC)
Reference outputs
+10 V, 100 mA
100 mAGND
Time sync input
1 (DCF-77 receiver)
CONTROL OUT HP
1 ✕ 12-pin port
Control outputs
6 High Power outputs(open collector, Umax =32 V, Imax = 1 A)
Reference output V
+24 V, Imax = 200 mA
Ready/fault output
1 (NO/NC relay contacts, Umax =32 V, Imax= 1 A)
Slave clock output
1 (24 V DC, max. 1 A)
CONTROL IN
2 ✕ 10-pin port
Control inputs
5 supervised inputs (0–24 V, Umax = 32 V).
5 isolated inputs (low: U ≤5 V DC; high: U ≥ 10 VDC;, Umax = 32 V)
CONTROL OUT
2 ✕ 10-pin port
Control outputs
12 Low Power outputs (open collector, Umax= 32 V, Imax = 40mA)
Control relay
1 (NO/NC relay contacts, Umax =32 V, Imax= 1 A)
Ethernet
1 ✕ RJ-45, 10/100 MB (for PC connection)
CAN BUS port
2 ✕ RJ-45, 10 to 500 kbit/s (for amplifier, router connection)
RS-232
2 ✕ 9-pin DSUB (port 1 for PROMATRIX 4000, port 2 for service only)
DC power input
21–32 V DC
Power consumption
10 to 250 W
Operating temperature
-5 °C to +45 °C
Electro magnetic environment
E1, E2, E3
Product dimensions (Width ✕ Height ✕ Depth)
19", 2 HU, 483 ✕ 88.2 ✕ 375mm
Net weight
8.0 kg
Shipping weight
9.5 kg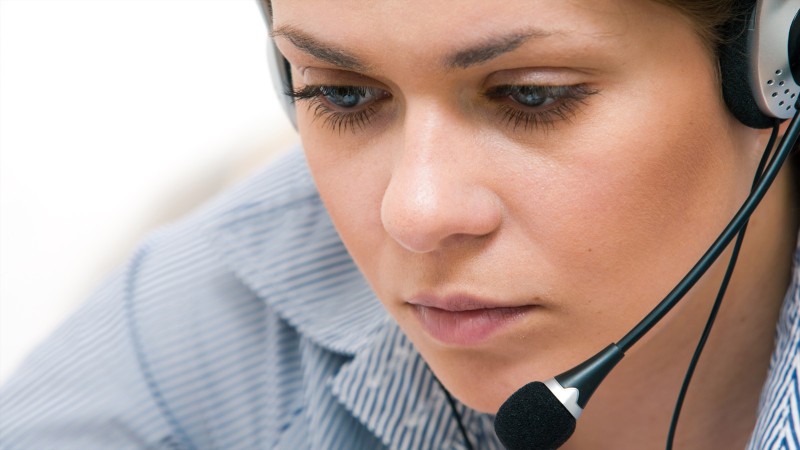 Dynacord & Electro-Voice, together with our certified partners, are ready to help support you through planning, purchase, and setup. Services available through our network of highly-qualified associates and partners may include:
System Design
Installation
Programming & Commissioning
Warranty & After Sales Programs