V600:4
Multi-channel power amplifier for commercial installations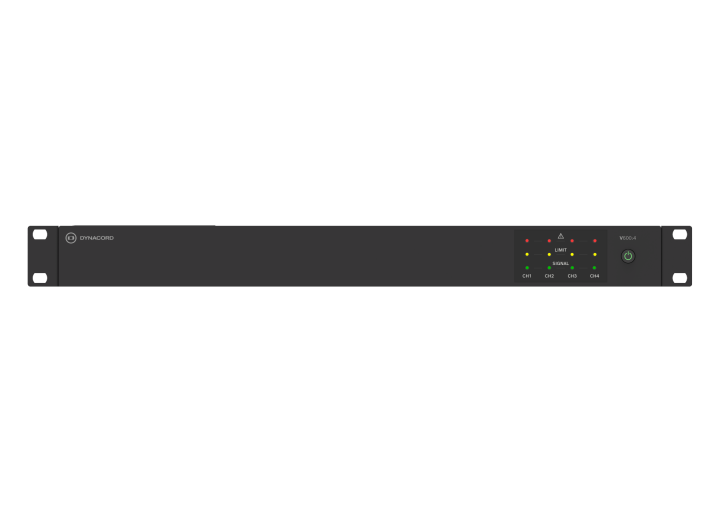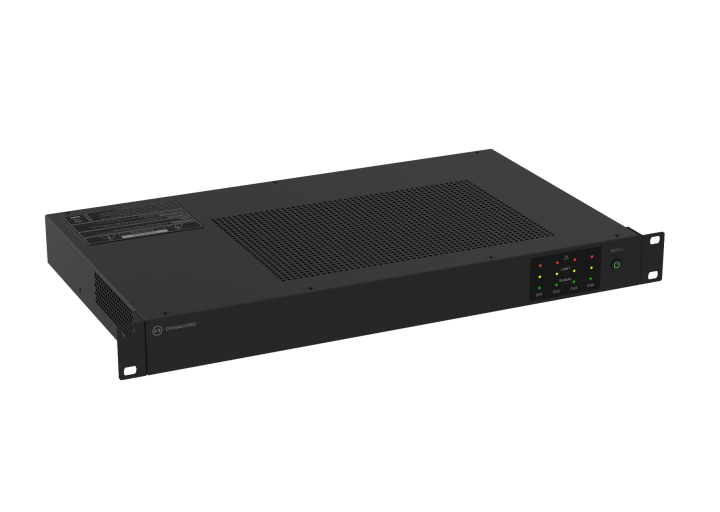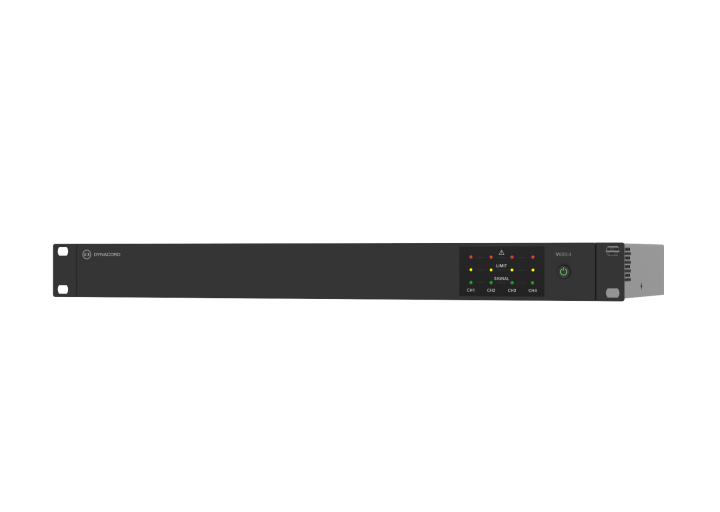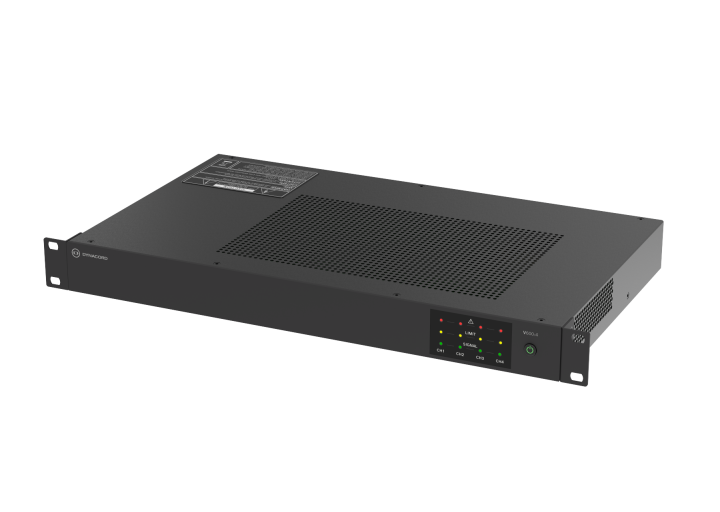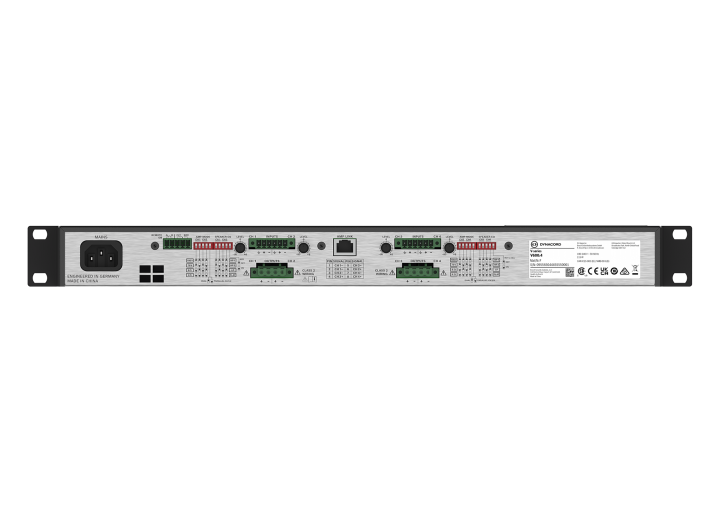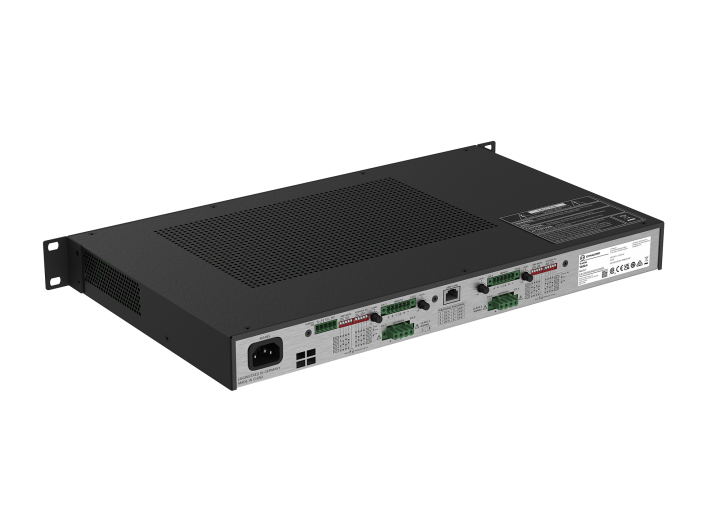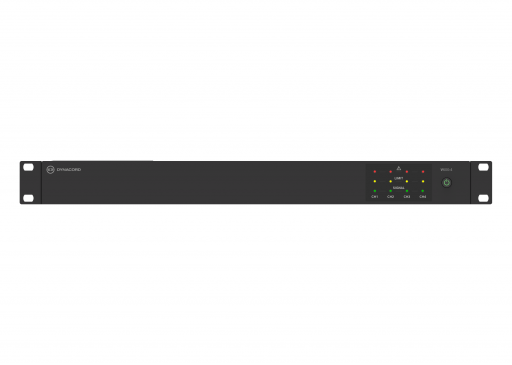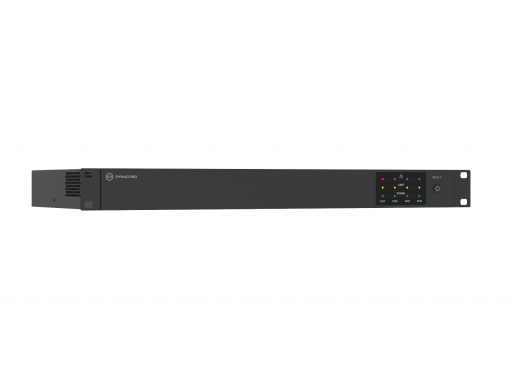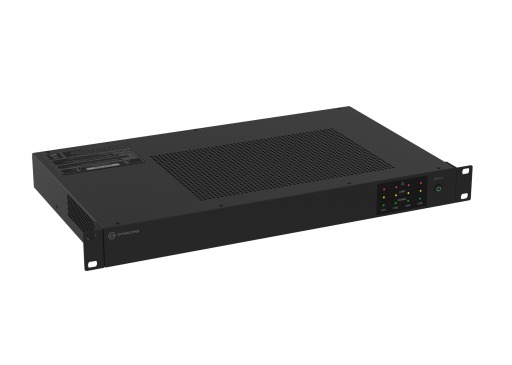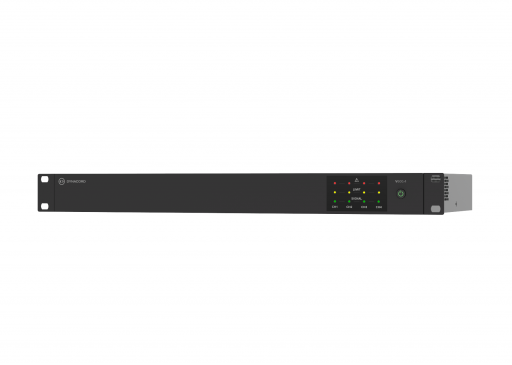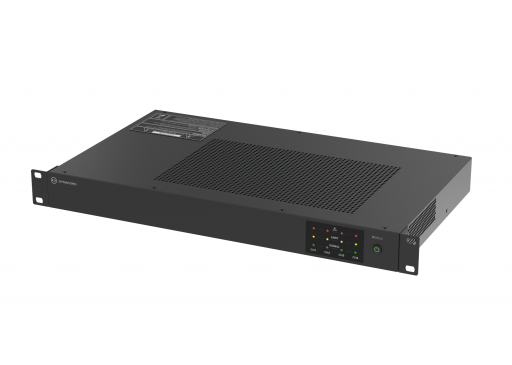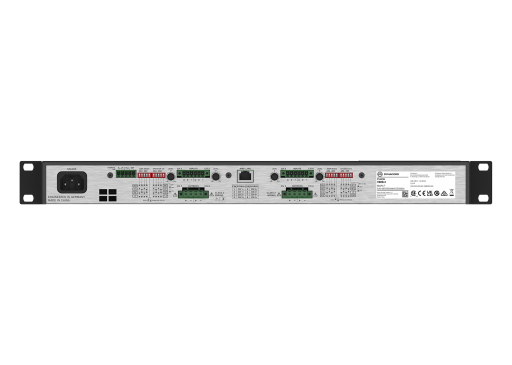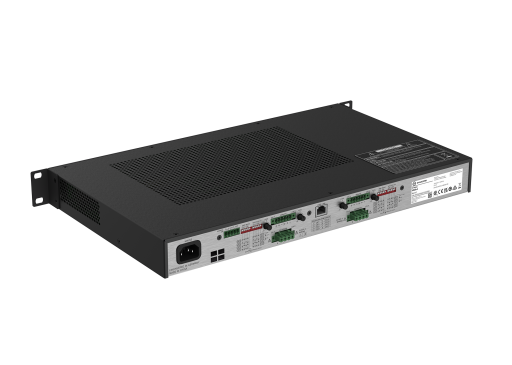 Versatile, lightweight four-channel power amplifier at an attractive price point, recommended for background music and announcements in small to mid-sized commercial installations
Unique Dynacord technologies for reduced cost of ownership, with low energy consumption and flexible power-load allocation
Easy handling and trouble-free amplifier operation – even under demanding power conditions – in a compact 1RU form factor
The V600:4 is perfect for small to mid-sized installation scenarios such as education, hospitality, retail, houses of worship and more. The four-channel power amplifier with a total power of 600 Watts is recommended as a go-to power amplifier for consultants, installers and specifiers who are looking for a sturdy, extremely versatile amplifier that is quick to install and runs trouble-free – even under demanding power conditions.
With a compact 1RU form factor requiring minimal rack space, the V600:4 is fully equipped with best-in-class features and innovative new Dynacord technologies to offer building owners an optimal combination of real professional performance and resource-efficient power consumption, all at a very attractive price point. The newly developed Dynacord powerTANK technology adds even more installation flexibility, working like a power reservoir for the amplifier. With direct access to the total power of 600 Watts, the V600:4 can deliver asymmetric power across all channels as needed. There is no waste of energy, which allows great flexibility – especially when driving multiple audio zones with different loads. For example, a single V600:4 can simultaneously serve as system drive for the compact loudspeakers in a small zone (such as a kitchen area) as well as for larger loudspeakers (such as in an auditorium). Contributing to the ease of installation, this feature does not require any special configuration skills – powerTANK engages automatically. In conjunction with a DSP matrix – such as the Dynacord MXE5 Matrix Mix Engine – the V600:4 can also be specified for larger distributed installations working as a distribution amplifier for smaller zones.
Features
powerTANK
powerTANK is a reservoir of available amplification power that is deployed flexibly across the 4 channels of the amplifier. There is no need to set up the powerTANK as it adapts to the requirements of each zone or output without extra manual configuration of each individual channel.
Variable Load Drive
Variable Load Drive (VLD) ensures that the powerTANK capacity is utilized efficiently, providing consistent power to any channel with any impedance. dualCOOL The dualCOOL thermal design means that the amplifier typically operates as a convection cooled amplifier, but in extreme thermal conditions the amplifier is also equipped with an intelligent multi‑speed fan to ensure maximum performance and reliability in any application.
ecoRAIL
ecoRAIL's power consumption is similar to a regular standby level, yet ecoRAIL still produces audio output suitable for background music levels, and the Auto Power Down (APD) mode can be engaged to further reduce power consumption to less than a watt when there is no signal present for extended periods.
PFC power supply
Equipped with a PFC power supply and protection features usually reserved for the professional power amplifiers, means that the amplifier resists complete shutdown situations and will always perform at its best under all conditions.
4 Ω
8 Ω
70 V
100 V
Electrical
Output power
Rated output power 1
4 x 150 W
Maximum output power per channel (power sharing) 1 at minimum impedance
500 W
600 W
500 W
600 W
Total rated output power 1
600 W
Number of channels
4
Output voltage rated output power
24.5 V RMS
34.6 V RMS
70.7 V RMS
100 V RMS
Maximum output voltage
40.0 V RMS
56.0 V RMS
70.7 V RMS
100 V RMS
Rated impedance per channel
4 Ω
8 Ω
33.3 Ω
66.7 Ω
Minimum impedance per channel
2.6 Ω
4 Ω
10 Ω
16.7 Ω
Amplifier
Nominal Gain (+6 dBu input sensitivity, LEVEL 0 dB)
24.0 dB
27.0 dB
33.2 dB
36.2 dB
Maximum Gain (0 dBu input sensitivity, LEVEL +6 dB)
30.0 dB
33.0 dB
39.2 dB
42.2 dB
THD+N (1/8 rated output power, 1 kHz)
< 0.1 %
Crosstalk (ref. 1 kHz, 12 dB below maximum)
< -80 dB
< -85 dB
< -90 dB
< -95 dB
Frequency Response2 (ref. 1 kHz, analog in to speaker out, -3 dB)
HP: 30/100/150 Hz to 20 kHz
LP: 30 Hz to 150 Hz
HP: 50/100/150 Hz to 20 kHz
LP: 50 Hz to 150 Hz
Damping Factor (30/50 Hz to 1 kHz, ref. to rated impedance)
> 80
> 160
> 500
> 1000
Output Stage Topology
Class D, fixed frequency
Signal to Noise Ratio (A‑weighted, ref. to rated output power, LEVEL 0 dB)
> 98 dB
> 100 dB
> 101 dB
> 103 dB
Output Noise (A-weighted, LEVEL 0 dB)
< -68 dBu
< -67 dBu
< -62 dBu
< -61 dBu
Connectivity
Analog Audio Input
Type
2 x 6‑pin Euroblock, 3.81 mm, male, parallel 1x RJ45
Maximum input level (LEVEL 0 dB)
+18 dBu
Input impedance, active balanced
20 kΩ
Mains Input
IEC C14
Loudspeaker output
2 x 4-pin Euroblock, 5.08 mm, female
Control Port
Type
1 x 5‑pin Euroblock, 3.81 mm, male
REMOTE ON
Remote On / Standby contact (overrides power button on front panel)
READY/FAULT
Galvanic isolated relay,
General
Signal processing
Input Routing, HPF 24 dB/ Oct., LPF 24 dB/Oct., Flat, Peak Limiter
Power requirements
100 V to 240 V, 50 Hz to 60 Hz AC
Power consumption
Consumption at 1/8 rated output power
115 W
Idle mode (ecoRAIL with no input signal)
< 20 W
Standby mode (APD active)
< 1 W
Power supply topology
Switching power supply with power factor correction
Protections
Audio limiters, high temperature, DC, HF, short circuit, back‑EMF, peak current limiters, inrush current limiters, mains over/under voltage protection
Front status
LEDs Signal, limit, fault LEDs per channel; power LED
Environmental
Climatic conditions
Cooling concept
Convection cooling in tabletop application and rack application with spacing between units. Forced cooling (side to rear) in rack application without spacing between units and in extreme thermal conditions.
Ambient temperature limits
-5 °C to +45 °C
(+23 °F to +113 °F)
Altitude (operating)
-500 m to +5000 m
(-1614 ft to 16404 ft)
Mechanical
Enclosure
IEC Protection Class
Class I (grounded)
Dimensions (HxWxD)
With 19" mounting brackets
44.2 x 483 x 269.5 mm
(1.74 x 19.2 x 10.6 in)
Weight
3.6 kg (7.9 lb)
1
Test signal for max. output power according IHF‑A‑202 (Dynamic-Headroom, burst 1 kHz / 20 ms on / 480 ms off / low level -20 dB)
2
Selectable via Speaker EQ.
Install Sound Partners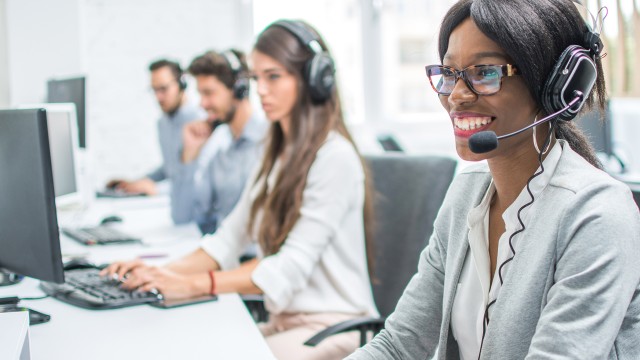 Dynacord together with our certified partners, are ready to help support you through planning, purchase, and setup. Services available through our network of highly-qualified associates and partners may include:
System Design
Installation
Programming & Commissioning
Get started
Warranty & After Sales Programs